The Son in My Eyes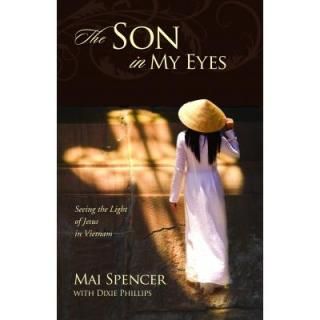 By Mai Spencer with Dixie Phillips
ISBN: 978-1935265665
Deep River Books
2011
$14.99
About the Book
:
Raised a poor, young, Buddhist girl during the time of the Vietnam War, Mai Spencer nearly lost her life after being exposed to Agent Orange. Overcoming tremendous obstacles, and surviving the effects of the war, she found a sense of security in her new husband and life in America. It wasn't until after three of her four children died prematurely, Mai turned from the false god of her childhood and cried out to Jesus, the Son of the Living God.
The Son In My Eyes – Seeing the Light Of Jesus In Vietnam
, is a dramatic testimony of forgiveness and hope, and tells how God made Mai into a woman of destiny when He called her to return to Vietnam and build a church there.
My Opinion:
I had no idea what to expect when I first began this book, I mean I knew it was about a woman who was born and raised a Buddhist in Vietnam but beyond that I really didn't know. I cannot begin to tell my readers how wonderful this book is – even though you'll read about the horrible things that happened to Mai as she grew up, you'll see the wonderful woman that becomes one of God's own children who is loved and protected even before she knew Him.
There were times that Mai should have been in a place where she would have been killed but God's providence protected her – she didn't know God but she knows now looking back that God indeed did protect her even while she was a Buddhist for His purposes. She has sprinkled Scripture that means something to her or backed up what she was going through at a time in her life, even adding in Scripture that she later learned was applicable to her early life.
God can call even the hardest of hearts to Him even if at the time, that heart doesn't recognize His sovereignty. I have experienced this to in my life that God protected me even when I turned my back and hardened my heart toward Him, he kept me from things that would have all but ruined my life. Travel with Mai from the time in Vietnam as she lives life with her dysfunctional family and on to her time in America with her husband and her children to being a successful business woman that begins church planting in her home country.
I have to say I loved this book even the pages that made me want to cry at her losses and the way she was treated as a child, this book was moving and so inspirational. I will say the use of the word spanking was used interchangeably with beatings – that is the only thing I had an issue with – in that spankings aren't the same as beating and abuse. However, that being my only disagreement with this book, I wouldn't let that deter me from reading it as I loved seeing how God was working in Mai's life before she ever came to a Saving Faith in the True Savior.
**To read more reviews like this one, go to: Tell Us the Truth Reviews
**I was given a copy of this book from Bring It On! Communications in exchange for my honest review, no other compensation was given.