Morning Manna by R. Chris Hanks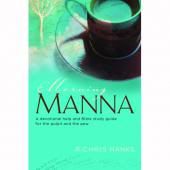 Being kind, thoughtful, giving and encouraging comes easy for most Christians. But ask them what area needs the most improvement and they will most likely answer, "I'd like to spend more time in God's Word and praying." As the clock ticks, and the years go by, there sits our Bible; used seldom, but thought of often.
Morning Manna will give your Bible that worn and tattered look you've always wanted. One that says, "I've been read, and I was good!" Taking you through the Bible in one year and camping on scriptures, (some of which are overlooked), Pastor Chris Hanks brings new devotions to chew on each day from the Word. Morning Manna–it's food for the soul!
All our help, strength and wisdom come from the Word,
but you have to read it to benefit from it.
I've always enjoyed the saying if your Bible is falling apart then your life isn't, or something to that affect anyway. In this day in age where having a Bible is easy to do and most of us have more than one on our shelves and night stands, it's harder for them to get tattered but then again we're busier and most of time doesn't go into our Bible's.
With Morning Manna there is one main Scripture reading but as you continue through the devotion it'll have you turning to other passages to bring home the topics for that day. At the end of the reading the list of topics are given such as church, feeding, leadership, pastors and provisions. I like that you can, at a glance see what it is you'll be delving into on a particular day.
If your looking for a devotion that can get you through the year and really has you digging into the Word then you may just want to check out Morning Manna and just maybe you'll end up with that tattered Bible!
**I was provided a copy of this book from Bring It On Communications in exchange for my honest review, no other compensation was given.