Review done by SimpleWyrdings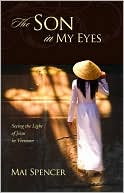 The Son In My Eyes by Mai Spencer is a very interesting book. It started off a bit slow and picked up speed after the first few pages. It is the story of a girl who grew up in Vietnam during the war. She tells about her life there, her family, the culture, the poverty, and the religion.She talks about many bad things that happened as she was growing up. The deaths of some of her family members, bombings, sickness, and government raids. She talks about mistakes she made as well. She definitely lived an interesting life. It prepared her in many ways for things to come later. She met and married an American man. She came to the United States; she lived here for many years. It wasn't all wine and roses here either. She went through the deaths of two of her children. She became a christian and decided she needed to help her family back in Vietnam to become Christians.The book is basically the story of why and how she ended up building a Church and Vietnam. It is a very good story. I liked the parts about the culture and lifestyle of the people in Vietnam. It really highlights how truly blessed and even spoiled we are in the United States. The poorest people here are rich compared to what she describes in this book.There are many scripture quotes in the book as well. The scriptures are well chosen and fit in with the story. It sometimes comes across as being preachy so if you really don't like preachy you might not like this book. Other than that I would recommend it to anyone. The Son In My Eyes by Mai Spenser
ISBN-978-1-935265-66-5
ISBN-10-1-935265-66-0
Published by Deep River Books in 2011
Buy it at Barnes and Noble : The Son In My EyesI received this book free for review. No other compensation was received.